THE NEW MAN I6 IN-LINE SIX-CYLINDER ENGINE
LATEST GENERATION OF MAN IN-LINE SIX-CYLINDER ENGINES FOR YACHTS
MAN Engines presented its latest generation of six-cylinder engines for use in planing and displacement hull yachts up to 55 feet, as well as in sport fishing boats, for the first time at the Fort Lauderdale Boat Show in Florida, USA, in 2015. The six-cylinder base engine has already been in use in numerous on- and off-road applications since 2007 and has proven itself hundreds of thousands of times. Currently, thanks to the specific modification for use in recreational boating, the three in-line six-cylinder engines i6-730 with 537 kW (730 HP), i6-800 with 588 kW (800 HP) and i6-850 with 625 kW (850 HP), each with 12.4 l displacement, are available in light operation.
In addition to future-proofing, the i6-850, i6-800 and i6-730 yacht engines based on the D2676 base engine offer a modern Common Rail system with up to 1,800 bar for high mean pressures and optimised combustion. In this way, MAN engineers achieve lower vibrations and noise emissions as well as low fuel consumption. Regular exchange of information and data with institutions such as the US Environmental Protection Agency (EPA) and the International Maritime Organisation (IMO) ensures compliance with strict emission requirements.
Proven and modified base engine
Modern Common Rail injection system with up to 1,800 bar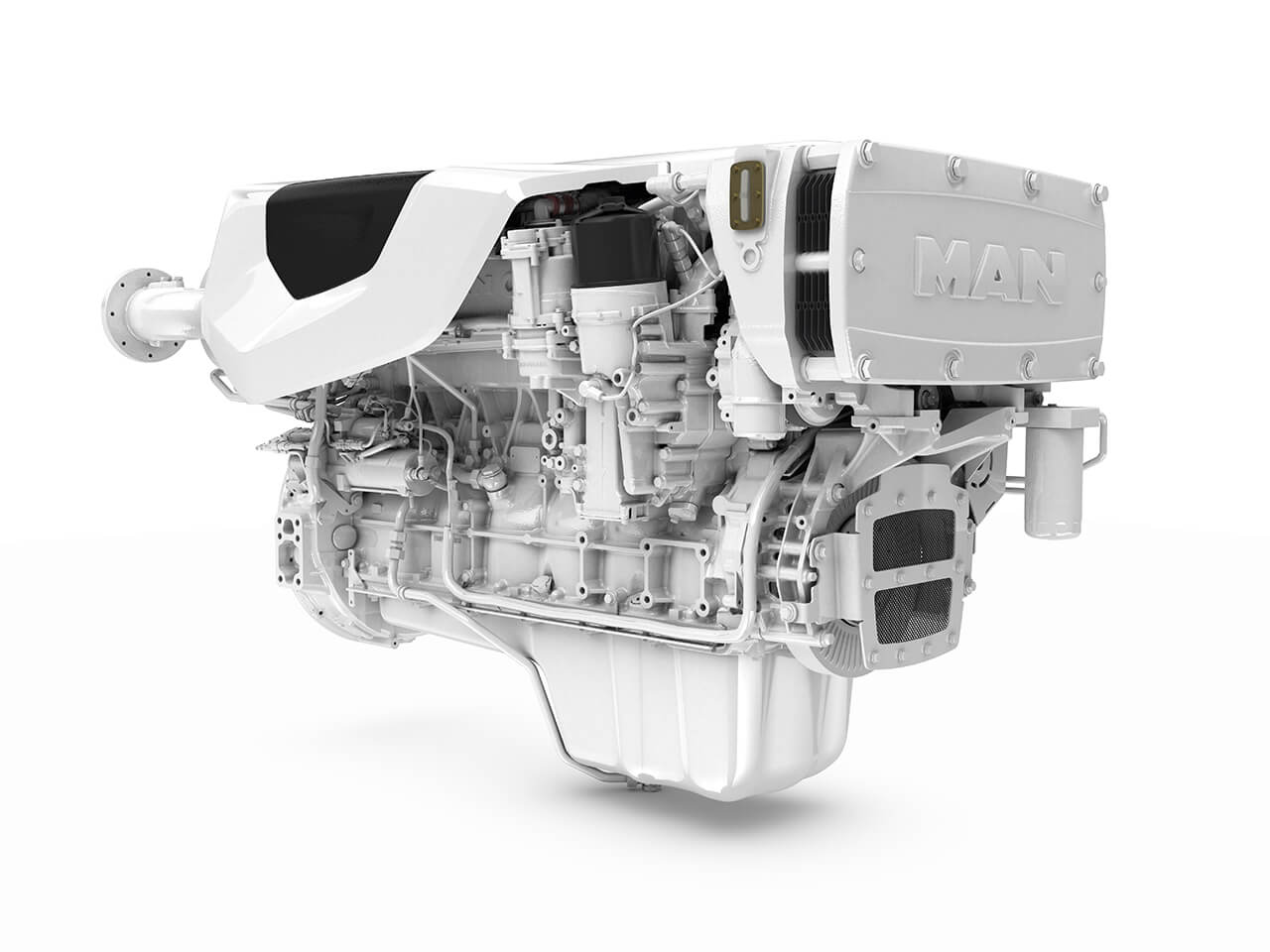 The new yacht engines also feature the wide torque plateau typical of MAN marine engines. The i6-730 with 537 kW (730 HP) thus offers 2,450 Nm and the most powerful i6-850 variant with 625 kW (850 HP) even 2,845 Nm between 1,400 and 2,100 rpm. This allows maximum torque to be realised over a wide speed range with the lowest specific fuel consumption. As a result, acceleration is continuous and the planing phase is highly efficient.
With the optional design cover, MAN's engine designers have aligned the new six-cylinder even better with the ambience of elegance and performance demands. With its elegant and timeless design, the engine perfectly matches the design language of modern luxury yachts. "The engine has always been the source of power and dynamics, which ship designers have expressed in their work. Now the circle closes with an MAN yacht engine as an art object in itself", states Claus Benzler, Head of Marine MAN Engines.
For ship designers, the new in-line six-cylinder engines with dimensions of 1,800 x 922 x 1,103 mm (L x W x H) offer MAN's usual compact dimensions – in this case with an even slimmer oil sump. At 1,200 kg (dry), the new engine generation also impresses with an even better power-to-weight ratio.
RED DOT DESIGN AWARD WINNER 2016
MAN SIX-CYLINDER ENGINE FOR YACHTS WINS RED DOT AWARD FOR ITS OUTSTANDING DESIGN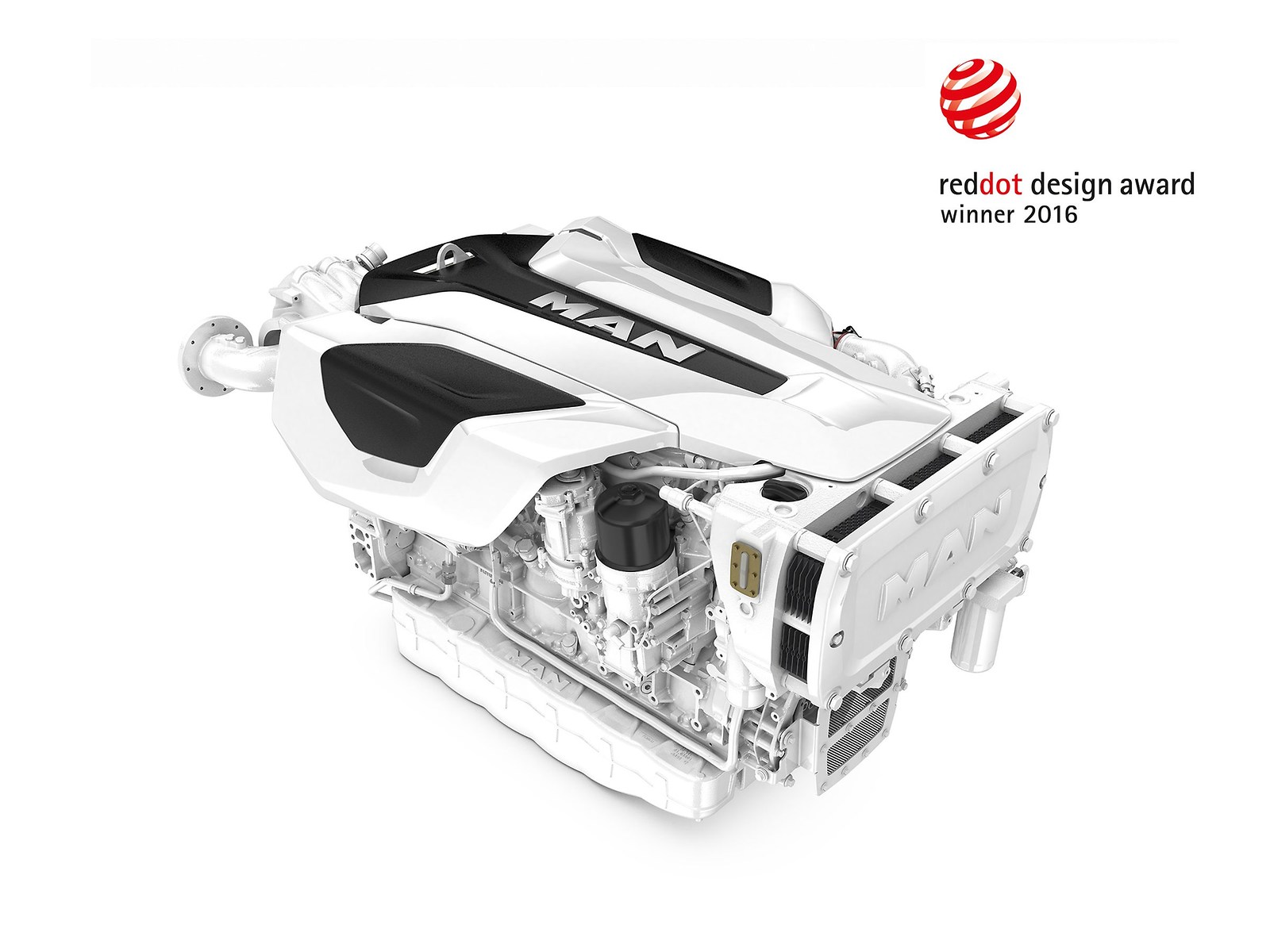 MAN i6 yacht engine: With its innovative design, it convinced the independent jury of experts and won the Red Dot Design Award 2016.
The MAN i6 in-line six-cylinder engine has received the Red Dot international award for high design quality. Participants from 57 nations submitted around 5,200 products and innovations for the Red Dot Award: Product Design 2016 registered. The international Red Dot jury only awards the coveted seal of quality to products that clearly stand out with their exceptional design.
"With the i6, MAN engines now represent even more than just reliability and performance. The outstanding design of the i6 is the 'icing on the cake' when it comes to luxury yachts, and next to dynamics, it also brings aesthetics to the engine room," explains Claus Benzler, Head of Marine MAN Engines. In December 2015, MAN Engines introduced the MAN i6-800 with 588 kW (800 Hp) and the MAN i6-730 with 537 kW (730 HP) in Florida, USA. This is the latest generation of six-cylinder engines for use in yachts with displacement hulls, boats with planing hulls up to 55 ft and sport fishing boats. Shortly afterwards, a variant with increased performance followed: The i6-850.
Strictly but fairly, an independent panel of 41 experts, such as freelance designers, design professors and trade journalists, judge live and on site. Each individual submission is evaluated according to criteria such as degree of innovation, formal quality, functionality and ecological compatibility. Professor Dr. Peter Zec, initiator and CEO of the Red Dot Award: "With their performances, the Red Dot winners not only demonstrated an extraordinary design quality, but they also showed that design is an integral part of innovative product solutions."
i6-730 / i6-800 / i6-850
(D2676 LE4xx)
Engine width
mm
922
Engine length
mm
1,800
Engine height
mm
1,103
Engine height over crankshaft
mm
704
Weight (dry)
kg
1,215
Max. permissible oblique position axial/transverse (inclination when installed considered)
°
7,5°/22,5°
Cylinder arrangement
In-line
Number of cylinders
6
Bore
mm
126
Stroke
mm
166
Displacement
l
12.42
Operating mode
Four-stroke diesel engine
Combustion process
Self-igniter
Injection system
Common Rail
Engine control unit
EDC17
Direction of rotation looking at flywheel
Counterclockwise
Rated power according to ISO 1585; 89/491 EWG
kW (HP)
537/588/625 (730/800/850)
Nominal speed
rpm
2,300
Max. torque at nominal speed according to UN ECE-R120
Nm/rpm
2,450/2,674/2,740 1,300 – 2,100 / 1,400 – 2,000 / 1,400 – 2,100
Specific output
kW/l
43.2/47.3/50.3
Exhaust status
IMO Tier 2, RCD 2013/53/EC, EPA Tier 3, 97/68/EC
Oil fill quantity without/with filter
l
34 min/40 max