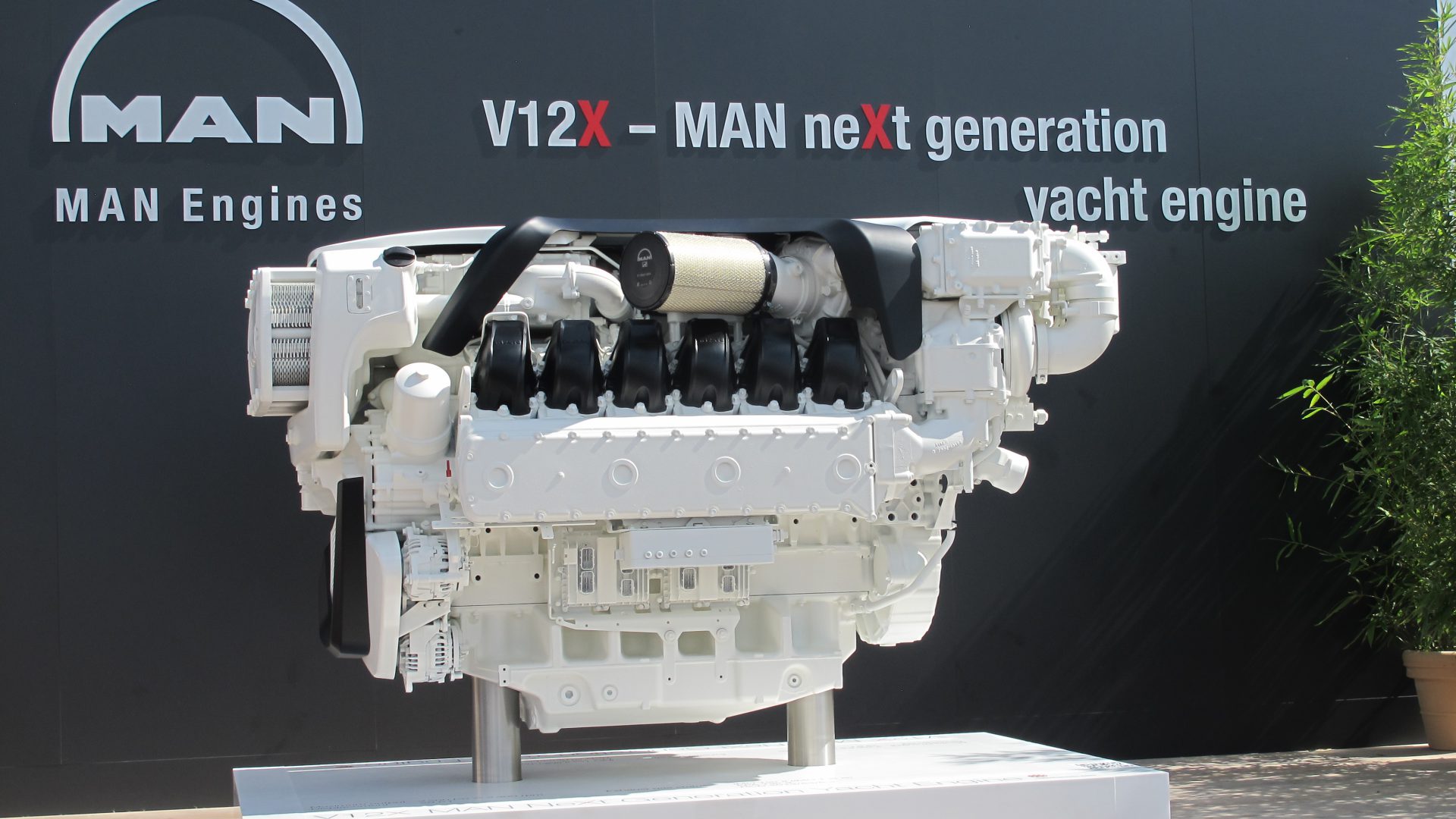 MAN V12X – THE EXCITING NEW ENGINE
The "X" stands for the neXt generation of engines from MAN Engines with eXtra displacement – 30 litres – and an eXcellent power-to-weight ratio.
The MAN V12X will be the first to join the engine portfolio in the MAN V12X-2200 model. In concrete terms, this means:
74.3 hp (54.6 kW) per litre displacement
THE NEXT GENERATION OF ENGINES FROM MAN ENGINES
MAN engines are synonymous with robustness. To meet our high standards of durability and reliability, at MAN Engines we have fundamentally revised the next generation of MAN V12X engines.
"The MAN V12X marks the start of the neXt generation of yacht engines. We are acknowledging this milestone in engine technology with the new name V12X and giving the distinctive engine cover an X design. The redesign of the MAN V12X is accompanied by more displacement for shipyards. As always, we have retained the excellent power-to-weight ratio that MAN engines are known for."
NEW POSSIBILITIES AND NEW APPLICATIONS
The MAN V12X yacht engine. A new generation on a completely new basic engine. With the same standards of quality and robustness.
The 30-litre displacement and 2200 hp (1618 kW) of the MAN V12X open up new possibilities in yacht construction.
eXcellent power-to-weight ratio
The V12X follows MAN Engines' guiding principle of building compact and powerful engines.
PERFOMANCE DATA MAN V12X-2200
Arrangement/number of cylinders
V12
Bore
138 mm
Stroke
165 mm
Displacement
29,6 l
Rated power
2200 hp / 1618 kW
Rated speed
2300 min-1
Mean effective pressure
7358 Nm/min-1
Specific output
54,6 kW/l
Engine length
2335 mm
Engine width
1153 mm
Engine height
1320 mm
Weight (dry)
2720 kg
Injection system
Common Rail
Engine control unit
MD1
Exhaust status
IMO Tier III
IMO Tier II
EPA Tier 3
RCD 2013/53/EC